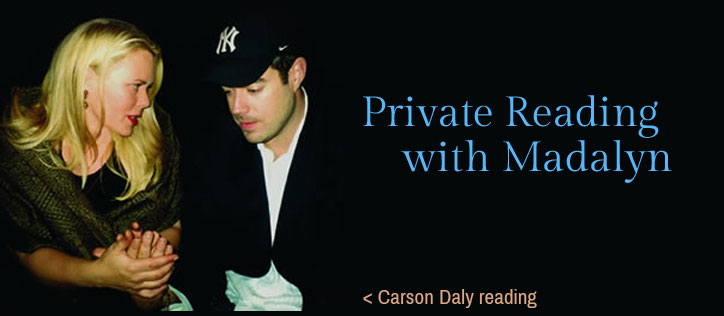 Readings are conducted by phone all over the world.
* $550 for one hour
* 100% confidential
* Recorded as an MP3 and emailed to you
Preparing for your reading: Find a quiet space to lie down for 1 hour. No one else except animals (who LOVE this!) Madalyn does the work – imagine a psychic pedicure – put your feet up, get comfy. Your session is recorded, then emailed to you, so just relax.
Ask anything: From love to health, career, romance, family, spirits, home, money, travel, Madalyn works with all forms of life. Your reading will be empowering, soothing, including names and dates. Most essentially Madalyn heals you.
Note from Madalyn: Reading hands is my forte. The lines on your hands change every three weeks! And I find the details fascinating. This is where I'm most psychic, where I receive visions, and where I hear names of people, where I see past lives, and, where, when appropriate for you, I communicate with loved ones who have passed on. I also read from your chart and tarot spread. I use everything because, with three planets in Virgo, I am extremely conscientious and thorough.
Your pets: They come through.
Assistant Viola gets you the soonest appointment: viola@madalynaslan.com / 212-631-5844
(Click to enlarge)