LOVE GURU : Madalyn Aslan
For Psychic to the Lovelorn,
Valentine's Day Pressure Is On
By Nancy Hass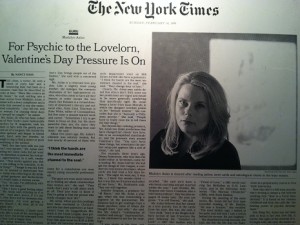 The client, a writer, 32, with a shock of curly hair and a hound-dog look, had been on a romantic road that he described as rocky at best. "More like craters on the moon," he said, settling into a chair across from Madalyn Aslan, a blonde with a dewy complexion and a smile that seemed to say she understood completely. "Just tell me, will the woman I'm chasing these days let herself be caught?" he asked.
Ms. Aslan, who has been called one of New York's most fashionable psychics by W magazine, took his hands in hers with the gently practiced air of a surgeon. She turned his palms upward and began to knead them, hard, with her thumbs, as though trying to find a tumor or push something to the surface.
"Well, this line here tells me you aren't very patient," Ms. Aslan said, chiding her client (who did not want to be identified, to protect his romantic opportunities) in a soft, smoky voice. "That works against you. But are you willing to be romantic, to do 'the thing'?" Though it was his first visit, he seemed to understand that Ms. Aslan was referring to the kinds of gestures and declarations that would make a woman swoon.
"Yes," he said. "I'm definitely willing to do 'the thing.'"
"Then I have a good feeling about it," Ms. Aslan said, exhaling as if in relief. "And don't worry, if it's not her, then there will be someone else. Immediately. I'm even getting a date, March 1. By then, all of the tension lifts."
Forty-five minutes, a dozen tarot cards and a scan of his astrological chart later, the writer emerged from his first visit a happy man.
Ms. Aslan, however, was drained. This is the busy season for psychics, especially Ms. Aslan, whose specialty is maladies of the heart. "Valentine's Day brings people out of the bushes," she said with a concerned sigh.
Ms. Aslan is a reluctant love psychic. Like a slightly tired young mother, she indulges the romantic obsessions of her high-powered clients, who often seem to have all their houses in order except the love shack. Her Rolodex is a virtual directory of downtown's literary and cultural elite, from Uma Thurman to Kate White, editor of Cosmopolitan, but few steer a session toward work and career. "Sometimes I try to get them to focus on that, but the more powerful they are, the more they want to talk about finding their soul mate," she said.
About five years ago, Ms. Aslan's clientele was entirely women, but now nearly 40 percent of those who come for a consultation are men, mostly young successful professionals.
"The guys are even more interested in finding out about relationships than women are," she said. "They really don't want to talk about work at all. They just want to know if they're going to find the person who really changes their life."
Ms. Aslan, whose psychic readings have been auctioned at Christie's and who has done energy clearings at fundraisers from the Guggenheim Museum to the Union League, does private readings for $450 an hour. Her forte is palmistry. "I think the hands are the most immediate channel to the soul," she said. "They change hour to hour."
Clearly, Ms. Aslan sees subtle detail that others don't. Ms. Aslan keeps a letter from Isaac Mizrahi, in which the designer lavishes praise on her "bedside manner." She concedes that she is "basically a Pollyanna psychic." She said, "People have to really coax me to tell them the bad things."
But beyond her calming presence, Ms. Aslan has made predictions that have changed her clients' love lives. She is an accomplished matchmaker, and the pressure rises around Valentine's Day. "You can't force these things, but sometimes the perfect setup just appears like a sort of vision," she said.
For example, three years ago, Donna Rubinstein, who was then the model editor at Seventeen, came for a reading. Ms. Aslan told her she had got the image of Jim Coogan, a commercial real estate developer, whose chart she had read a few days before. "The night we went out, it was like — I know this sounds cliché — but it was like we'd known each other all our lives," Ms. Rubinstein said. They are still together.
Jennifer Simpson, a producer for "48 Hours," met Ms. Aslan a year ago, when she was researching a segment on the paranormal. Ms. Simpson had to get readings from a dozen psychics, most of whom she thought were "just silly," she said. But Ms. Aslan's "combination of comfort and energy" impressed her, so she continued to see her for readings.
"I was single at the time, and Madalyn told me I was going to meet a Jewish man 10 years older than I was with green eyes," Ms. Simpson recalled. "She said we'd have a whirlwind courtship and get married within the year." Last October, Ms. Simpson met Steve Friedman, also a television produce; they became engaged ten weeks later. His eyes are green. "I'm still floored," she said.
Ms. Aslan believes that her career as a love psychic was in the cards from the start. She was, she said, a "love child," conceived in New York City to New Yorker parents, but her actress-hippie mother insisted on giving birth in the Haight-Ashbury section of San Francisco. Three days after Madalyn was born, they returned to New York.
Ms. Aslan, too, dabbled in acting as a teen-ager. She was in "Priest of Love," a 1981 movie starring Sir Ian McKellan as D.H. Lawrence, and in the television mini-series "The Martian Chronicles" (1980) with Rock Hudson.
During the shooting of the mini-series, Ms. Aslan did her first tape-recorded reading, of Mr. Hudson. "He was a Scorpio," she recalled. "The most hidden sign. I looked at his palm and told him I saw a storm behind the stream. He just laughed."
She abandoned acting because she said, she felt the life was too flaky. After pursuing a B.A. at Cornell University and a master's degree in creative writing at Sarah Lawrence College, she taught freshman writing at New York University.
Now that she's a full-time psychic, she's writing a roman a clef with the working title "Heir to a Feral Wonderland." It is based on her rootless childhood and what she calls the "healing power of psychic development."
One thing Ms. Aslan has not been able to heal is her own love life, it seems. She sighs at the mention of it. To begin with, she said, she makes an ethical point of not dating her clients. "It's too one-sided," she said. "You're never sure if they want you for your insight or really for you."