By: Patricia Collins
Here is the review from Psychic New York which reviewed 63 psychics, including John Edward and Michael Lutin: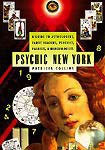 ASLAN, MADALYN
Astrologer, Palmist, Psychic
Clientele: from royalty to the homeless, parties, fund raisers
Mystical and poetic, Madalyn possesses an inner spiritual beauty which is reflected in her whole outer being — from the seemingly fathomless look in her eyes to her soft, melodious voice.
With a rich background — her ancestors were Cherokee, Celtic, and Daughters of the American Revolution — Madalyn has been doing psychic readings since she was 11. She grew up in Hollywood and London, acted in a number of films, and obtained her Master's degree in writing, which she now teaches at New York University and public elementary schools. Her work has appeared in Seventeen, as well as numerous other magazines, and she has a nationally syndicated horoscope column.
Her psychic healing powers, which she integrates with Palmistry, are quite extraordinary. During a session, you feel as if your whole being — from your earliest roots to your distant future — is laid out before you like an immense map. Madalyn works on an extremely deep level to discover all that is within you, so you can grow to your fullest potential and receive the maximum benefit of her power.
In your own home, this very spiritual young woman will explain and analyze in depth every line, texture, form, and mount on both your hands, as she uses her innate psychic and healing gifts to integrate the analytical with the spiritual.
Without asking questions, Madalyn will make suggestions for mental, physcial, and emotional improvements, what you should focus on, and how to approach particular situations. If she sees fears or self-doubts that have hindered you, she will discover their origins, and then advise you on how to best overcome these inhibitions. Predictions may be, but are not always, accompanied by dates, names, and images which she will describe to you in detail.
Madalyn has been a guest psychic at the Guggenheim Museum's Spring Gala and Halloween Ball, the Joseph Papp Public Theater, the Union League Club, and the Fashion Group, and has worked with psychiatric and prison inmates. She is the only psychic whose readings have been auctioned at Christie's.