Madalyn Aslan clears the air…
By Dana Schuster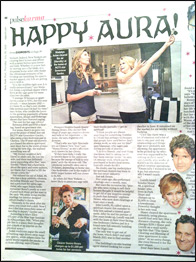 Adam Glassman, the creative director of O, The Oprah Magazine, does what any good boss would do to welcome new hires. He warmly greets them, hosts a first-day breakfast meetingw and then rids their cubicles of bad aura by waving around a burning bundle of herbs (otherwise known as a smudge stick) like a magician brandishing his wand.
When new employees come, I sage the desk in their offices from the energy of the past employees, says Glassman.
I'm always smudging the office and all the corners of the room. Its really about cleaning house.
Spiritual clearing or cleansing, the act of removing all negative energy from a space via herb-burning, noise and concentrated thought, has gone from hippie to haute. (Sage is the herb traditionally employed in cleansings, per ancient Native American ritual.)
Designer Isaac Mizrahi, actress Uma Thurman and Cosmopolitan Editor-in-Chief Kate White have all cleared their NYC abodes. According to a March Page Six item, Rachael Ray even ordered her staffers to sage her new Chelsea TV studio in order to chase away the negative spirits of past owner Martha Stewart. Indeed, New Yorkers are clearing their homes and offices with a never-before-seen fervor and faith. Whether it's a new family moving into a flat fatale, or a desperate home seller who thinks the vibrational remnants of his breakup are tarnishing the space's market appeal, city folk are getting zen-y with it.
It is like wildfire right now. It is really extraordinary, says Madalyn Aslan, a spiritual clearer who's been at the sage game for more than two decades.
I average 20 houses or apartments a year in NYC, but this year already " since January 2012 " it's been 32, so that's over double [the normal pace] in half the time, says Aslan, who credits the boom to the growing popularity of home renovation, design and brokerage shows that have featured saging.
The cost for her sage advice?
Between $500 and $750 a clearing, based on apartment size.
For some, there's no price too great for peace of mind. Just ask HGTV star Genevieve Gorder, who owns a two-bedroom pad in Chelsea. The 37-year-old recently purchased the mirror apartment next door, but in the midst of renovating the new digs, she realized something was off.
My former neighbor, he's [now] in adult care. He lost his wife, and there was definitely some unraveling after that, says Gorder. There was a heaviness about the space and some sadness, so I knew that I needed to lift the energy a little bit.
She enlisted the aid of Aslan, 48, who has a deep celebrity clientele, including Mizrahi and Thurman, and a penchant for salvia sage. Aslan, who sages French SoHo restaurant Raoul's yearly as a sort of good-luck ritual, got her start in the early '90s while doing psychic readings for interior designer Albert Hadley's clients.
Honestly, in the week after she came, you could feel a shift. Now I don't feel that immediate sense of needing to depart, Gorder says.
According to Mary Ellen O'Leary of the Blue Sage Institute in Albuquerque, NM, When people live in a space, their thoughts put a mark or an imprint on the physical space.
Some traditions argue the smell of burning sage drives away negative spirits, while others claim the spirit world regards the smoke as a clean offering, says O'Leary.
Prospect Heights-based clearer Donna Henes, who did her first ritual 25 years ago, employs drums and bells in her repertoire " the noise, she says, frightens evil demons.
That's why you light firecrackers on Chinese New Year, says Mama Donna, as she's affectionately known by her clients.
If they have kids, I really like to involve them in the ceremony because the energy of kids is very pure, adds the 66-year-old. The ceremony normally takes one to 2½ hours, depending on home size. One-bedrooms cost in the realm of $300; larger homes will run closer to $1,500.
So when did New Yorkers " more likely to associate sage with their foodie pursuits " get so spiritual?
I think people are always searching for something, truthfully. I think that perhaps techniques that people have used before dont always work, so why not try this? says Glassman, who sages pals during periods of distress.
I do it to friends, and next thing you know, they're asking me to buy them smudge sticks, he says. (A smudge stick, which can be purchased at health food stores, typically retails for $3.)
Just ask Henes.
Five years ago, she performed clearings once a month, max.
But once the recession hit, people who were trying to sell their houses thought it would be helpful to get rid of any negative energy to push that forward, explains Henes, who now does clearings at least once a week.
John Lorelli, 30, called upon a spiritual clearer this summer to help him unload a tainted apartment. After he and his partner of five years broke up, Lorelli was left with the lease at their river-facing, one-bedroom Chelsea pad in a brand-new full-amenity building on the High Line.
The only way to get out of the lease, which didn't end until March 2013, was to find another renter.
The building's on-site leasing agent started looking for a new dweller in June. It remained on the market for six weeks without budging.
I felt like there was a lot of emotion and a lot of ties to my past and my relationship and things that were probably not allowing the apartment to be picked up by whoever was supposed to be coming in there next, says Lorelli, who works at Kiehl's as the director of global creative operations. Financially I wanted to let it go, but emotionally I wasn't ready to.
Lorelli hired Sondra Shaye, 48, a spiritual healer who lives in Park Slope and charges up to $1,000 to clear a townhouse. Powerful thought is her sole tool.
Shaye cleared the apartment remotely, using photos Lorelli had sent her. (For a distance clearing, she only charges $250.) Shaye sent Lorelli an e-mail notifying him that The Space Clearing and Blessing of your apartment is complete. At no extra charge, she even blessed it for the next tenant.
Four days later, Lorelli found a renter.
It's one of those things, he says. You get out of it what you believe in it.
Renee Graziano, one of the stars of VH1's Mob Wives, is a believer. For the last few months, her life was in a rut thanks to a botched plastic surgery and the fact that her son's father cooperated with the federal government. Worse, she was seeing the image of the devil in the marble swirls of her counter top.
I'm very much into God. And I just needed to kind of cleanse my house of all the bad things that were going on at the time. I couldn't bring God down himself, Graziano admits.
So instead, she hired Henes to clear her four-bedroom Staten Island home.
It almost felt like a complete turnaround, says Graziano. The air felt thinner. It didn't feel so miserable.
And the devil in the countertop?
It took on the likeness of a clown.
After it was done, says Graziano, I could look at it and laugh.