Click to renew HERE.
To get a taste of your October (5 pages), click what's here. 
With 4 planets in Libra, October will be felt like a fine tooth comb, each experience magnified. Cultivating relationships, both in business and love, will be crucial, and artistic projects take center stage. There will be much forward movement – finally! – due to four retrograde planets going direct. Pluto on October 6, Saturn on October 10, Jupiter on October 18, and Mercury on October 18. This is too good to pass up – I've included a future tidbit for every sign.
Approaching highlights for ALL the signs, in chronological order:
By Friday, September 24 – A final legal agreement for Aquarius, with resulting relief.
Saturday, September 25 – Mars will be in a great angle to Saturn. Aries and Capricorn reach a great pinnacle of success. Leo makes a lasting commitment.
Friday, September 29 – Venus in Scorpio is hit by Neptune in Pisces. The three water signs, Cancer, Scorpio, and Pisces, have the magical date nights they've had in years.
Monday, September 27 to Monday, October 18 – Mercury retrograde in Libra. For Gemini it's the most romantic time of the year. Taurus also has a beautiful month for romance. It brings back a person from the past to help Sagittarius move ahead (who will it be?)
Wednesday, October 6 – Libra new moon, occurring at 13 degrees and 25 minutes of Libra. Perfect for everyone, especially Libra, to start afresh. Virgo gets more money!
As a Libra who loves art, I am especially inspired by the artist I've chosen to represent October, the photographer Tricia de Courcy Ling. Her portrait of Dorothy, below, gives me such joy. And, fitting for October, she is preparing for winter, here shopping for essentials at Camden Market in North London. Let us prepare as well as Dorothy for the coming months.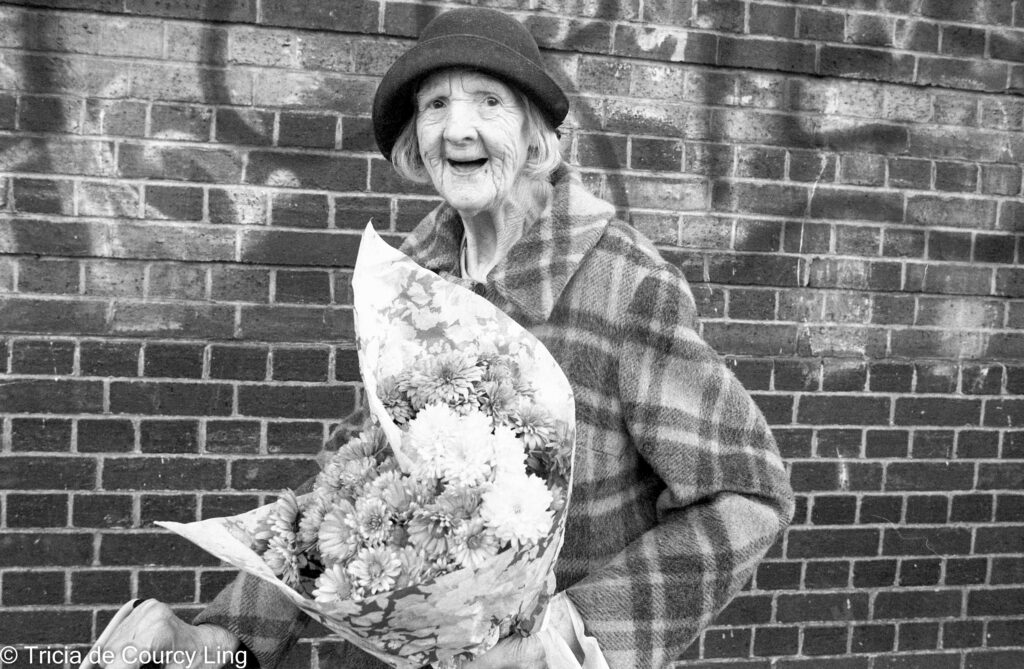 To obtain a limited print of Dorothy, go to Tricia's site and scroll down to Portraits. There are many beautiful photographs besides which I bid you enjoy. Happy October!
Prints for Sale (triciadecourcyling.co.uk)
Tricia works for The Guardian, Time Out, and book publishers in the UK but she is happiest in her canoe photographing the river, on which she lives with her husband and son.