Everyone's paying you attention and listening to your words this April – but not YET. Until April 10, when Mercury flies into your first house and the sign of Taurus, your words do better by themselves, and you need to be in some form of retreat. Just for YOU. You're worn out. You've been going nonstop. Whether it's away for a spot of sun, or hibernating in your apartment, you need to relish in all the gifts your twelfth house has to offer. Which are: rest, solitude, healing, and self-replenishment. Just until April 10, and then most strongly, when your light comes back and you begin to shine again, after April 19, when the Sun enters Taurus, and your first body house.
You need to be the new Lassie now, hearing the message, the call of help for yourself. (I flash this wonderful cartoon from The New Yorker for your Venusian sister Libra as she always needs to hear it!)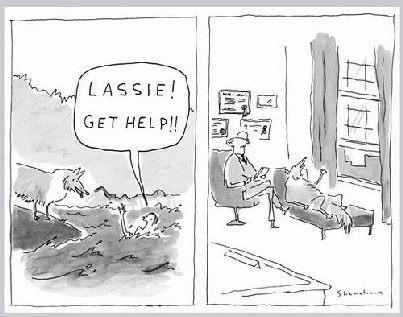 For now is the darkest before dawn time, that month before the Sun moves into your own sign, and it's like we have to prepare for it.
You've been looking for answers. And after chaos and no clear solutions, just an awful time of it, it's almost over, dear Taurus, so don't fret. Then the world is – truly – your oyster. You are a wise sign, with the patience of the ages, and remember, you have survived much worse.
There are no retrograde planets currently. Everything is moving forward, for better or worse. Including, tragically, the war. We are in the time of MARS (March) still, celebration of the god of war.
Ferdinand the Bull, quietly smelling the flowers, is a much better role model for all fellow bulls right now. Even if you are going like gangbusters, you need to retreat and rest a bit now, with everything in your twelfth house of solitude telling you to take it easy. Make certain you get an hour of peace and quiet to yourself EVERY DAY.
For in this twelfth house of Healing Deep Thoughts you have, lighting it up like a Christmas tree:
Life-giving Sun
Clear thinking / wordsy Mercury (March 27 – April 9)
A new – fresh starts – Aries Moon from Friday, April 1
Healing Chiron
Wise Pallas
It should also be a very creative time, when words and ideas and images flow, and brainstorming is matter of course.
Your love and beauty planet Venus – your ruler, naturally! – has you looking utterly lovely and should have everyone falling in love with you, but, still you need to take some time out for yourself. Maybe think of going to a yoga retreat, or at least let yourself sleep, read a book, daydream, munch quietly.
With so much planetary energy in your twelfth house of retreat, this is how you will replenish best – until the Sun enters your sign of Taurus on Tuesday, April 19 – by retreating and taking breaks by yourself. Before then, you will triumph, but only with others' help and long spells of rest and recovery. Make sure you take time out after your day – or night – of "performance". In your professional life, be cautious, diplomatic, and look ahead. In your love life, go ahead and indulge! (At the very least, enjoy the attention coming your way. Soak up those compliments.)
Stressful events and people should be avoided as much as possible until late April. Elusive answers are the worst and will drive you positively nuts! Pretend everyone is in an Alice in Wonderland scenario (they are); people are growing smaller, growing larger, changing their minds, their colors, their identities.
After April 19, your first house of self takes over and you are masterfully in control again. But until then, please take it easy.
Might you consider staying home for the Easter holiday? Think about it. Think about curtailing pressure as much as possible. You have been doing wonders, and you're not even acknowledging this, dear Taurus! This is why you are so tired. You have not only changed your life radically, you have opened up a new avenue of experience for yourself (and generously for your family, as well) that is unequalled in the past.
This has all taken great guts and determination. Give yourself a pat on the back, will ya?
The delayed actions and frustrated plans with money and business, particularly a family business or joined family funds / mutual resources now finally begin to move forward. Hallelujah! Whatever has been holding you back — and it has taken many forms — now goes POOF! You will start to see welcome results immediately.
But think, Taurus, how it also made you prioritize. Saturn is fantastic for throwing out what is no longer necessary. No more unrealistic thinking in terms of a certain property. You deal with it now. And you deal with it well.
Whatever was NOT necessary you get rid of — and that was wise. Sadly, you have felt some rejection or absence of your healthy productivity.
A word here about how you've felt about your contributions, and how difficult it's been, and how you can make it right again. I'm talking here about the asteroid Pallas stirring in your twelfth healing house. Allow me to introduce you to your approaching power!
Pallas is the asteroid which rules wisdom and choosing your battles. Born from Jupiter's head, and Jupiter's favorite child, Pallas Athena's power is second only to her father's. Thus, next to the great planet of luck, Pallas has the greatest power in the entire pantheon. She represents creativity, initiative, planning, cunning, and strategy.
Giver of the olive branch (to Athens), Pallas prefers diplomacy to conflict. BUT she leads her warriors into battle when necessary AND she's the goddess of carpenters. Legend has it that she's the one who helped create the Trojan Horse. Talk about planning and strategy in battle! That huge wooden horse which so delighted and intrigued the enemy that they allowed it into their city.
The time came when the risk it took to remain tight inside the bud was greater than the risk it took to blossom.
– Anais Nin.
Now, this may be especially difficult for you because of your need for security. Your endless gift for patience, and your perseverance.
But it is the truth. April is all about transformation. You simply MUST let go of the old and the past, let it fall or explode or crumble as it will, and embrace the new.  It is a dangerous and exciting time of your life.
With the Sun set to enter your sign of Taurus, you will be blessed. Blessed and protected.
So after mid-April, take the leap. Blossom.
Trust yourself. Have faith in your ability.
Go all out on a project, and even then, it will take longer than you think. So employ another one of your gifts – your ability to plan! This is in terms of a work project.
Remember: you have Pallas Athena's spectacular wisdom, strength, cunning, and will to help you. And when you have, your sense of power and achievement — and happiness — will be extraordinary and triumphant. And you will do it, Taurus. I know you will.
Enjoy.
And Taurus, it is finally SPRING! Spring has sprung!
Is it now time to clear your home or business of past and blocked energy?
Time to heal negativity so you can truly prosper in 2022.
Are you ready for your own reading, Taurus?
For your reading with me by phone, click here to email my assistant Viola, or call:  viola@madalynaslan.com / 212-631-5844.
YOUR DESTINY DAYS  Taurus Sun, Taurus Rising, and Taurus Jupiter, your destined times are:
(EST) Saturday, April 2 after 12:50pm; all of Sunday, April 3; Monday, April 4 until 11:04pm; Friday, April 29 after 8:19pm; and all of Saturday, April 30. 
I look forward to our talking again. So you don't miss my helpful wisdom, articulation of what you're going through (and what to do about it), insight and meditations, please stay in touch via my options below. CREDIT CARDS now accepted in addition to PayPal.
The price for membership is $6.95 now.
This is a one time payment for one month of access to the horoscopes.
The price for membership is $19.95 now.
This is a one time payment for three months of access to the horoscopes.
The price for membership is $49.00 now.
This is a one time payment for one year of access to the horoscopes.
This is a monthly recurring membership, meaning that you will be charged every month until you cancel your membership through the website. If you do not wish to be charged monthly please choose one of the single payment options.
Still unsure? Read some reviews to see what Madalyn's clients rave about! And check out Madalyn's appearances in the press.